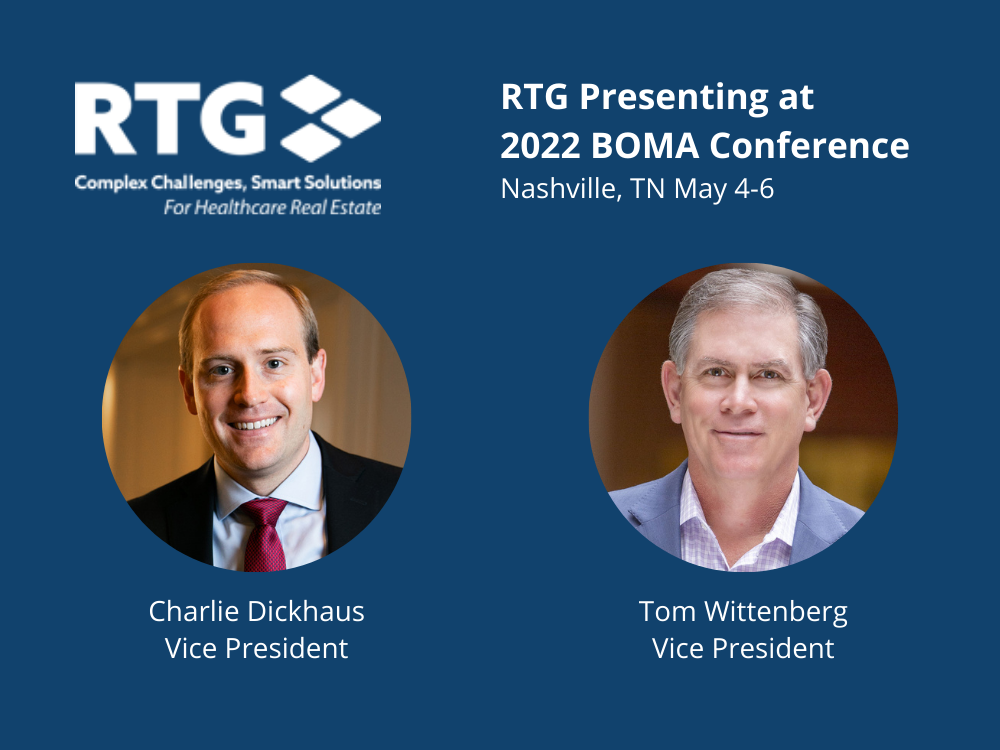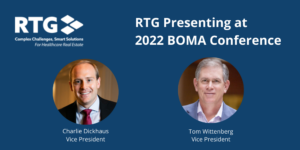 Realty Trust Group (RTG) is looking forward to connecting with healthcare industry leaders at the 2022 BOMA International Medical Office Buildings and Healthcare Real Estate Conference. Not only will our organization be sponsoring the conference happening in Nashville, TN, May 4-6, two of RTG's Vice Presidents are scheduled to speak at the event. 
This year's conference will focus on thriving in healthcare, despite how much change everyone in the industry has faced in the past few years, and will continue to face in the future. With key sessions covering real estate portfolio management, competitive advantage, enhanced delivery of care, and opportunities coming in the future of healthcare, you'll learn from the best in the industry. 
Highlights of the conference agenda include:
Healthcare Real Estate Compliance

An Overview of Life Sciences

Leasing & Management in an Inflationary Market

Speed to Market Solutions
RTG's Charlie Dickhaus will be speaking on the "Leasing and Management in an Inflationary Market" panel alongside other experts in the healthcare real estate industry. The panel will discuss supply chain issues, the impact of inflation, staffing, construction, and how all of these things impact lease costs.
RTG's Tom Wittenberg will be on a panel covering "Life Sciences: Industry Overview and Outlook" alongside some of the industry's finest leaders. One of the biggest developments in the industry is how Life Sciences is taking commercial real estate by storm. Tom and the other presenters will be sharing their perspectives on associations with healthcare and academic institutions, new developments, unique attributes relative to operations and property management, and more. 
Since 1998, RTG has worked closely with healthcare leadership teams to help our clients navigate the rapidly changing healthcare industry, always striving to stay one step ahead. Whether planning your next growth strategy or seeking to reduce operational costs, RTG understands healthcare real estate and its unique challenges. 
We hope you'll join us in Nashville, May 4-6. We would love to discuss how we can help you gain market leadership and enhance your delivery of care through innovative real estate solutions! If you'd like to connect with us at the conference, you can schedule a time by visiting our web page and visiting us at table #22 at the conference. 
To learn about the services RTG offers to help healthcare leaders save money, manage risks, and enhance delivery of care visit realtytrustgroup.com. If you are planning on attending the 2022 BOMA conference, visit our conference website to learn more!