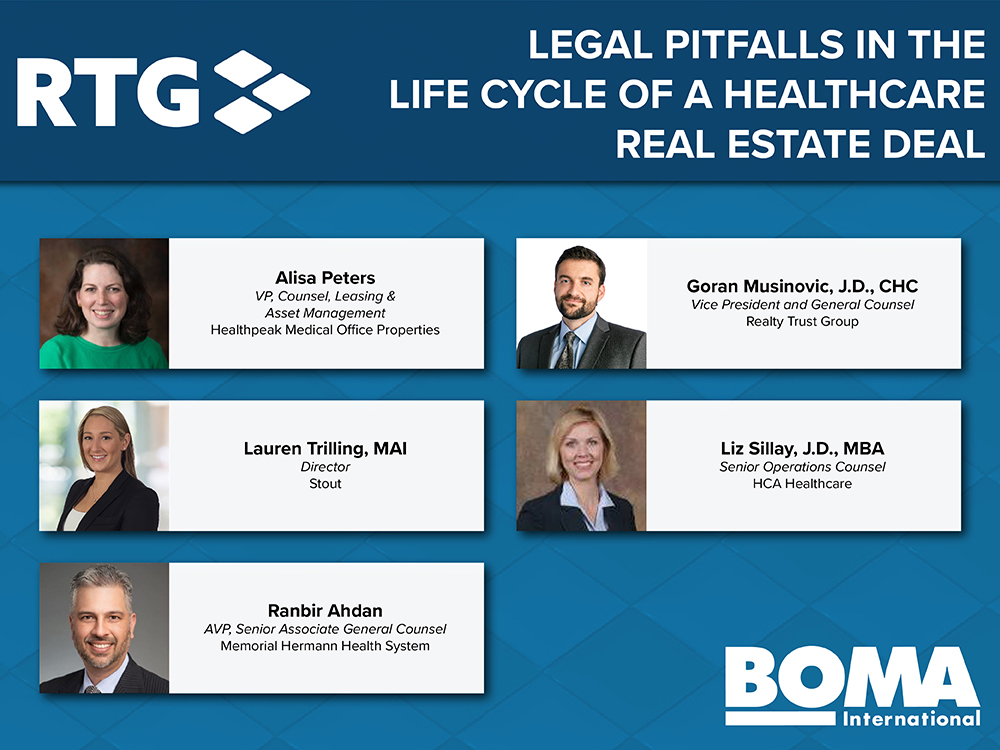 Blog Featured, RTG Blog, RTG News
RTG's Goran Musinovic to Participate on Panel at the BOMA Medical Office Buildings + Healthcare Real Estate Conference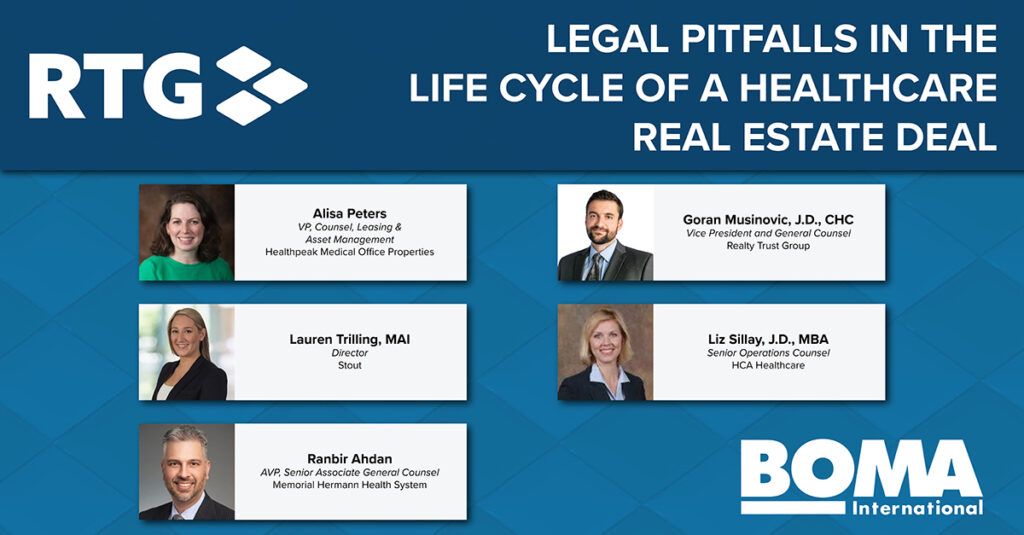 Realty Trust Group (RTG) will attend the Building Owners and Managers Association's Medical Office Buildings + Healthcare Real Estate Conference, April 26-28, 2023, in Chicago, Illinois. The conference brings together health system executives, developers, investors, lenders, facility managers, architects, and others to network and share practices to strengthen their real estate portfolios.
Vice President and General Counsel Goran Musinovic will participate in a panel session on "Legal Pitfalls in the Life Cycle of a Healthcare Real Estate Deal." The panel will discuss challenges and opportunities for real estate teams as they support the healthcare industry's growth and operations. The session will delve into real-life examples of pitfalls encountered throughout a healthcare real estate deal.
Other panelists include:
Alisa Peters – VP Counsel, Leasing & Asset Management, Healthpeak Medical Office
Lauren Trilling – Director, Stout
Ranbir Ahdan – AVP, Senior Associate General Counsel, Memorial Hermann Health System
Liz Sillay – Senior Operations Counsel – HCA Healthcare, Moderator
Read our white paper, "Ambulatory Real Estate Development: Converging Perspectives and Objectives Between Health Systems, Physicians, and Developers," to learn about strategies to create alignment between health systems, physicians, and developers.
Since 1998, RTG has worked closely with healthcare leadership teams to help our clients navigate the rapidly changing healthcare industry. Whether planning your next growth strategy or seeking to reduce operational costs, RTG understands healthcare real estate and its unique challenges.
To learn more about RTG's broad spectrum of healthcare real estate services, contact Vice President and General Counsel Goran Musinovic.