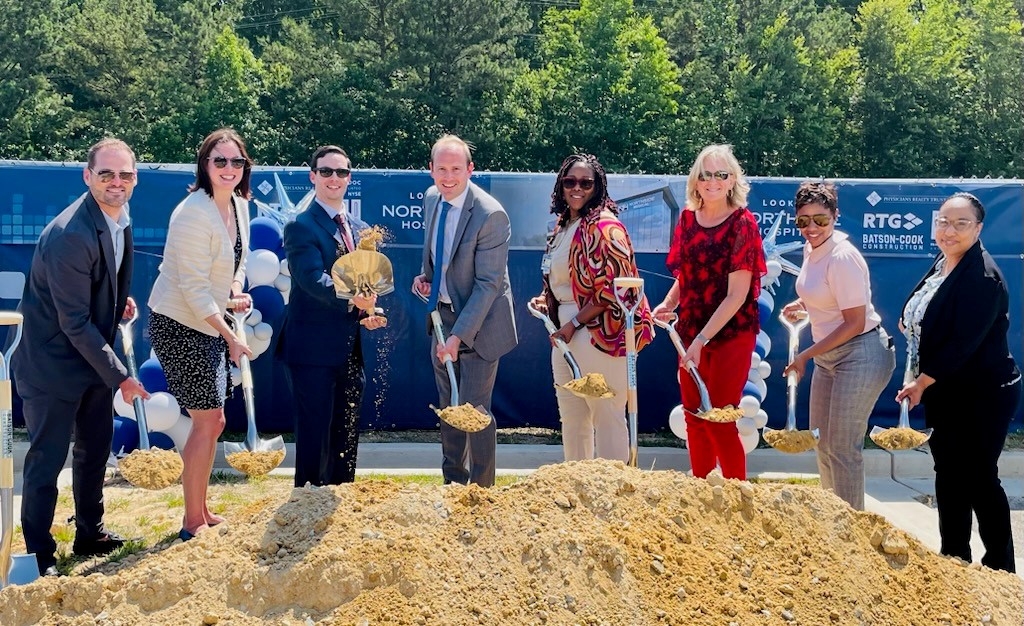 Representatives from Realty Trust Group (RTG), Northside Hospital, and Physicians Realty Trust (NYSE: DOC) joined on June 26 to celebrate groundbreaking for a new 100,000-square-foot medical office building in the north Gwinnett community near Atlanta, GA.
Northside Hospital will lease the majority of the new building and plans to provide a range of specialized healthcare services to meet the diverse needs of the growing community, including primary care, family medicine, medical oncology, imaging services, cardiology, orthopedics, physical therapy, a surgery center focusing on total joint replacement, and third-party physician office space.
RTG and Northside began site selection and planning efforts in 2019 and closed on the purchase of the 21-acre site in April 2020.  Construction is now underway and the facility is scheduled to open next summer.  While no formal plans have been announced, the site also provides an opportunity for a second, future building.
"We knew we wanted to be in or around the Buford/Lawrenceville market and really understood that Highway 20 was a big growth corridor," RTG Senior Vice President Charlie Dickhaus said. "We wanted to secure a property on Highway 20 that not only could satisfy the needs for the next five years but could satisfy the needs for a lot longer than that.  That's why we ended up purchasing such a big piece of property that has potential for a second phase."
RTG will provide project management services for the construction of the new building, which is being developed and financed by Physicians Realty Trust, a prominent real estate investment trust, or REIT, focused on healthcare properties.  Upon completion, RTG will also provide ongoing property management and leasing support.
For more information about the project, check out this article from the Gwinnett Daily Post: Northside Gets Underway on Buford Outpatient Medical Office Facility.