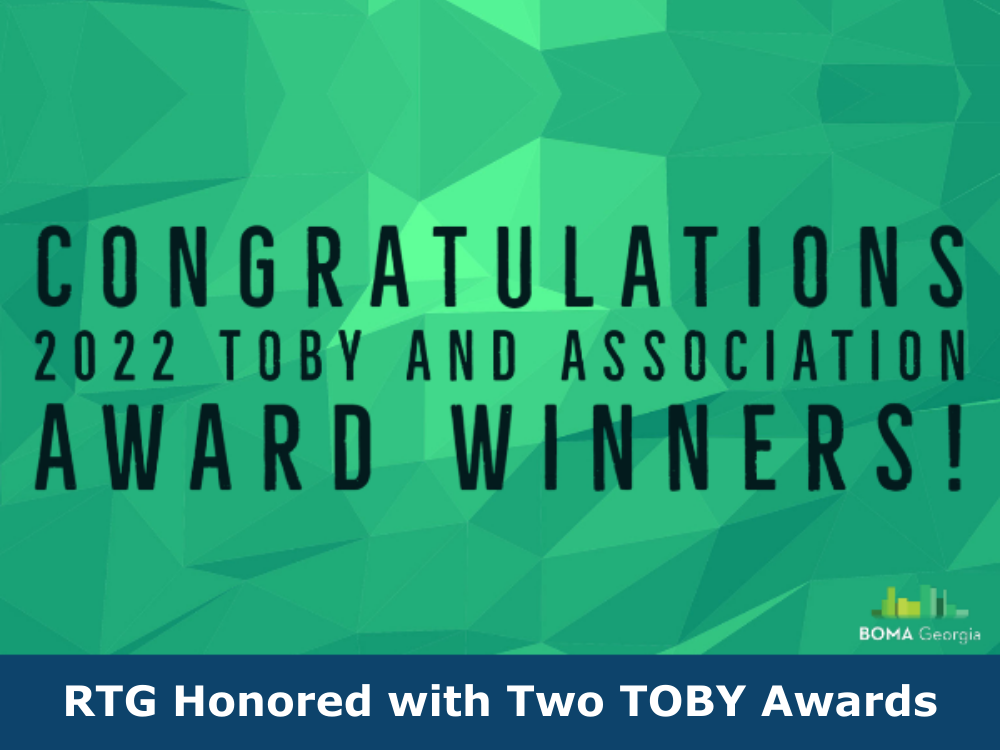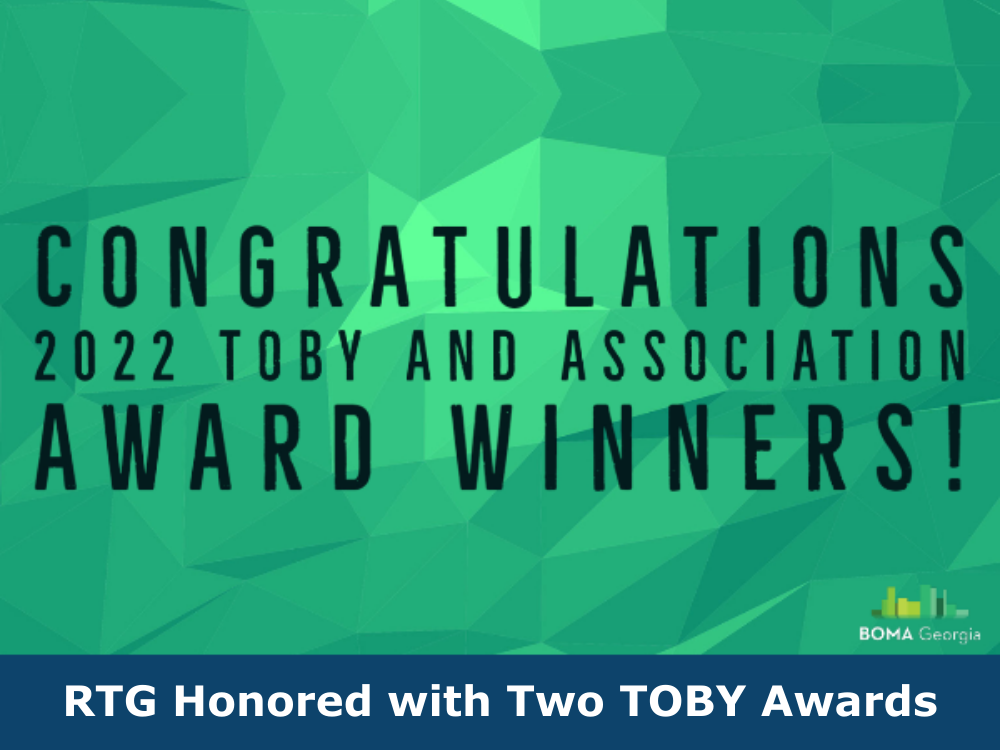 The Building Owners and Managers Association (BOMA) of Georgia annually recognizes Georgia's top buildings through The Outstanding Building of the Year Awards (TOBY). TOBY Awards are designed to highlight excellence in building operations and management.
Realty Trust Group (RTG) is pleased to announce its acceptance of two 2022 TOBY Awards. Northside Midtown Medical, a property of Physicians Realty Trust (NYSE:DOC), was awarded the honor in the Medical Office Building Category and Northside Hospital Forsyth – 2000 Building in the 100,000 – 249,999 sf category.  RTG is grateful to be entrusted with the management of both facilities and thankful for the leadership of RTG team members Charlie Dickhaus, Lauren Alexander, Sue Hames, Nancy Ziegler, Von Terry, and Kendall Snyder on these property management teams.
RTG extends appreciation to all of the service partners for their dedication to providing excellent customer service to the tenants and assisting RTG's efforts in running well-maintained buildings. For both buildings, RTG would like to acknowledge Bevara Building Services and Pritchard Industries.
Both buildings will advance in their respective categories to BOMA's regional competition which is the Southern Region Conference and be in consideration for 2022 BOMA Southern Region TOBYs.
A TOBY Award from BOMA is the most prestigious recognition that building operators can achieve in commercial real estate. It's the one competition that honors outstanding commercial office buildings and excellence in building management at a local, regional and international level. All facets of a building's operations are involved, including its tenant relations program, amenities package, community involvement, emergency evacuation procedures, building standards, accessibility, and overall exceptional service.
For the Medical Office Building Category in which Northside Midtown Medical was awarded the TOBY Award, categories & requirements include the following:
The building must be at least 75% medical use, and at least 50% of the dedicated medical use space must be for private physician or hospital-employed physician offices.
The building can be located on or off a hospital campus, and its tenancy can be comprised of 50% hospital uses or ancillary services, (such as imaging, physical therapy, rehabilitation clinics, prosthetics, pharmacy clinics and the like) provided by the hospital, including employed or aligned physician offices, ambulatory surgery centers, clinical labs (such as catheterization labs).
Patient stays must be less than 24-hours (but could occur within any 24-hour period).
For the 100,000 – 249,999 sf office building category in which Northside Hospital Forsyth – 2000 Building was recognized, details on how submissions are judged are included below.
The following mandatory items must be included in the building inspection:
Entrance/Lobby
Security/Life Safety
Management Office
Elevators
Multi-Tenant Corridors
Restrooms
Stairwells
Typical Tenant Suite (if applicable to building category)
Central Plant/Engineering Office
Equipment Rooms/Service Areas
Roof
Parking facilities (only if Owner/Agent Operated)
Landscaping/Grounds
Refuse Removal and Loading Docks
Tenant Amenities
The following documentation is mandatory where applicable and must be available at the time of inspection at the property being considered for recognition.
Evidence of Evacuation Drills conducted within the past 24 months. NOTE: Drills can be silent if applicable.
Regular Financial Reports/Accounting Software Used
SOP Manual/Documentation of Standard Operating Procedures
Purchase Policies
Preventative Maintenance Manual
BOMA Building Measurement Standard Global Summary Sheet as proof of certification (or other pre-approved certification)
You can learn more about BOMA Georgia and TOBY Awards here.
About Realty Trust Group
Realty Trust Group, LLC ("RTG") is a real estate advisory and services firm offering a full spectrum of real estate services including advisory, development, transactions, operations and compliance.
Since 1998, RTG has helped hospitals, physician groups, and property owners navigate the rapidly changing industry with growth strategies that gain market leadership as well as enhance patient and physician experiences for better delivery of care. Our philosophy is to provide innovative solutions to the complex and challenging issues found in today's healthcare real estate market. These solutions include strategic campus and facility planning, portfolio optimization, portfolio monetization, project development, leasing, acquisition and disposition services, portfolio management, regulatory compliance and many other ideas and services. For more information about RTG and our innovative healthcare real estate services, visit  www.realtytrustgroup.com, Facebook, LinkedIn, or call 865-521-0630.