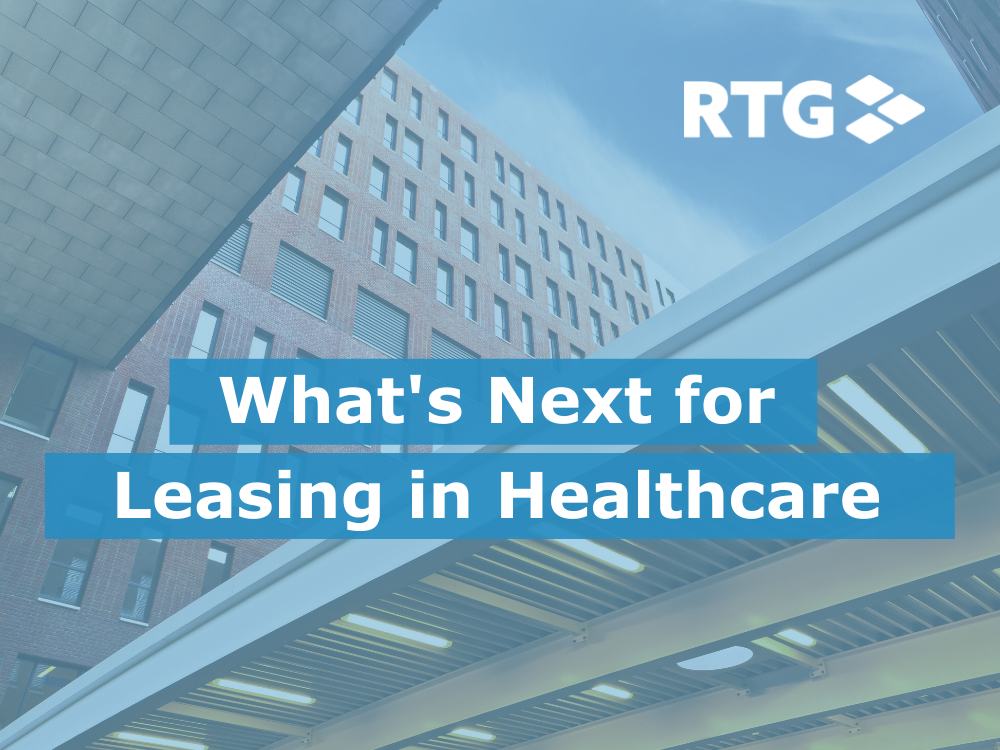 In March 2020 the World Health Organization (WHO) declared COVID-19 a global pandemic. What ensued next included a variety of policies and efforts to reduce the spread of the disease and attempt to lessen the short-term impact on the healthcare system and the economy as a whole. Realty Trust Group ("RTG") has maintained a careful watch on the immediate and projected long-term impact this will have on hospital, health system, and medical practice leasing and development.
Charlie Dickhaus, RTG, recently teamed up with Lorie Damon, Managing Director, Healthcare Advisory Practice Leader for Cushman & Wakefield, for a panel discussion on "Hospital Leasing Strategy Now and The Future: What's Next?" as part of the DOC REIT Annual Management Summit. Panelists offered insight gained from personal experience and observations while responding to a series of questions from moderator Mark Dukes, Senior Vice President of Asset Management for Physician Realty Trust, and closed by answering questions from the live audience.
Read on to learn about some of the insight Charlie offered to the audience.
1. How have hospitals and healthcare systems had to adjust their approach to leasing space as a result of COVID?
The good news first! Following a period of volatility with elective procedures on hold and an industry-wide push towards telemedicine, leasing activity and occupancy rates for clinical space have returned to pre-pandemic levels.
As for administrative spaces, we are continuing to see an impact. As more healthcare providers become comfortable with remote working for administrative functions less space is needed. We are spending time with multiple clients thinking of innovative solutions to repurpose administrative spaces.
Leasing for new development has also been impacted due to rising costs. We are experiencing construction pricing greater than 20% of pre-pandemic levels making it challenging to deliver products at reasonable rates. This trend will potentially impact the availability of new space over the next few years.
2. What are regional and national leasing trends as it pertains to operating expenses?
Increased operating expenses are likely to stick around. The rising labor costs and patient expectations are different than pre-pandemic especially as it relates to janitorial services. Simply put, people now expect a higher level of cleanliness, especially in healthcare settings, leaving property owners to adjust the level of service accordingly.
In addition, transactions for healthcare assets continue to increase at record levels due to investors' view of healthcare as a stable sector of commercial real estate. The more real estate transactions take place at premium levels, tax rates will be evaluated and adjusted accordingly having a direct impact on building operating expenses.
3. What do systems want (need) from their broker advisors?
Healthcare experience matters, a lot. Hospitals, health systems, and physician practices seek someone who understands healthcare, has objective opinions, and takes an advisory approach to solve problems. There are a lot of brokers who understand real estate but not a lot of brokers who also understand healthcare.
RTG has exclusively served the healthcare industry since 1998. At RTG, we believe "Real estate follows strategy" and we understand healthcare real estate is a complicated and constantly changing industry. RTG brings an "advisory-first" approach serving as an extension of a healthcare leadership team to bring a comprehensive view of their real estate and empower the organization to position real estate as a strategic asset, not just a cost of doing business.
Questions or would you like to schedule a call with an RTG team member to discuss your real estate challenges? Visit our website.