Blog Featured, RTG Blog, RTG News
RTG Sponsoring and Speaking at the SCHA and Solvent Network's 2022 Healthcare (Financial) Leadership Networking Event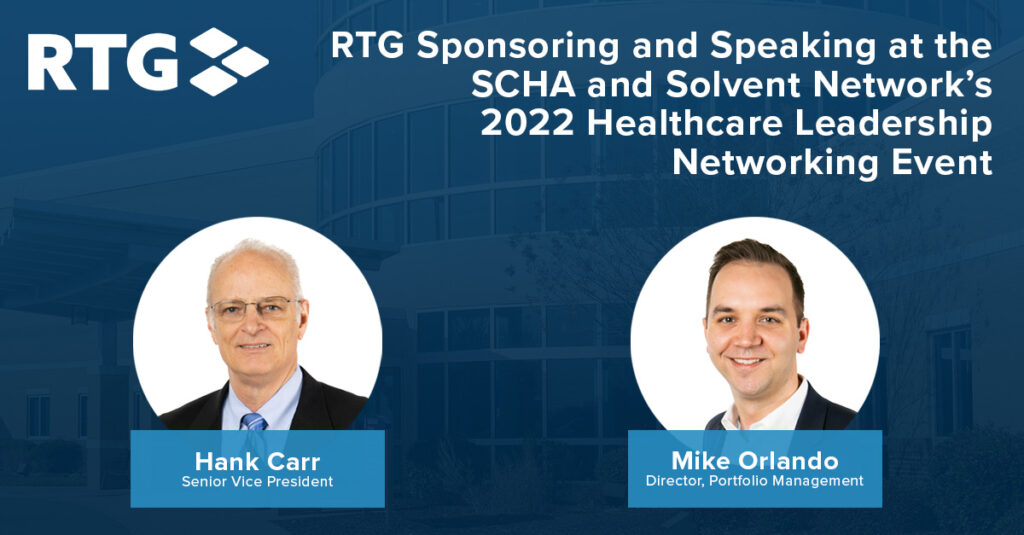 Realty Trust Group (RTG) will sponsor and speak at the South Carolina Hospital Association and Solvent Network's 2022 Healthcare (Financial) Leadership Networking Event October 27, 2022, in Columbia, SC.
RTG Senior Vice President Hank Carr and Director of Portfolio Management Mike Orlando will present "5 Key Components of a Successful Hospital Real Estate Program," which will explore the best ways to optimize and structure hospital real estate programs. Our team also looks forward to sharing insights and discussing our full suite of healthcare real estate services and compliance solutions with attendees.
Since 1998, RTG has worked closely with healthcare leadership teams to help our clients navigate the rapidly changing healthcare industry. Whether planning your next growth strategy or seeking to reduce operational costs, RTG understands healthcare real estate and its unique challenges.
Learn more about how RTG identifies cost-saving opportunities and improves operations for healthcare systems.