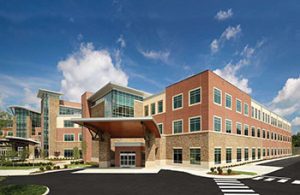 Realty Trust Group (RTG) has been chosen to provide comprehensive real estate services to Ballad Health over its 3-million square-foot medical office building portfolio.
Ballad Health is an integrated healthcare delivery system serving Northeast Tennessee and Southwest Virginia through 21 health facilities and with more than 800 physicians.
Ballad's health system was created in 2018 by merging Mountain States Health Alliance and Wellmont Health Systems, reflecting a growing trend in hospital system mergers across the country that are necessary to stay competitive and relevant in the marketplace and to better serve communities.
RTG will support the Ballad leadership and facilities team in managing Ballad's 3-million squarefoot real estate portfolio of non-hospital facilities, including medical office buildings, operational buildings, and clinics.
"It is an honor to be chosen to support the region's largest healthcare provider with their real estate needs," says Hank Carr, Senior Vice President of RTG's Johnson City office. In addition to RTG's day-to-day duties of property management, lease administration, and project management for Ballad Health, RTG will assist with the consolidation of 2 portfolios totaling 200 sites and over 400 individual leases.
By identifying operational efficiencies and eliminating duplication of services, RTG will improve Ballad's ability to invest in expanding patient care and improving outcomes throughout the region.
This assignment represents a significant milestone for RTG. Greg Gheen, President and CEO of RTG commented, "We have enjoyed a 20-year relationship with the legacy Mountain States Health Alliance (MSHA) partner in the Ballad merger."
Earlier this year, RTG also announced a similar portfolio management agreement with Cone Health to become Cone's full real estate partner in all phases of providing comprehensive services for their entire 1.8 million square-foot non-hospital real estate portfolio.
Collectively, these assignments grow RTG's total real estate management portfolio to over 11M SF.
About Realty Trust Group
Realty Trust Group works with health systems and physician groups to align existing real estate assets and future real estate investments with the strategic, operational and financial goals of the organization. The Realty Trust Group service delivery commitment is based on extensive healthcare real estate experience and a proven track record in delivering results for our clients in an independent, objective and thorough manner.
RTG has clients in over 30 states, has nearly 11 million square feet of assets under management, and has over $2 billion in completed healthcare transaction volume.
For more information about RTG's full-spectrum healthcare real estate portfolio services, visit www.realtytrustgroup.com, Facebook, LinkedIn, Twitter, or call 865.521.0630