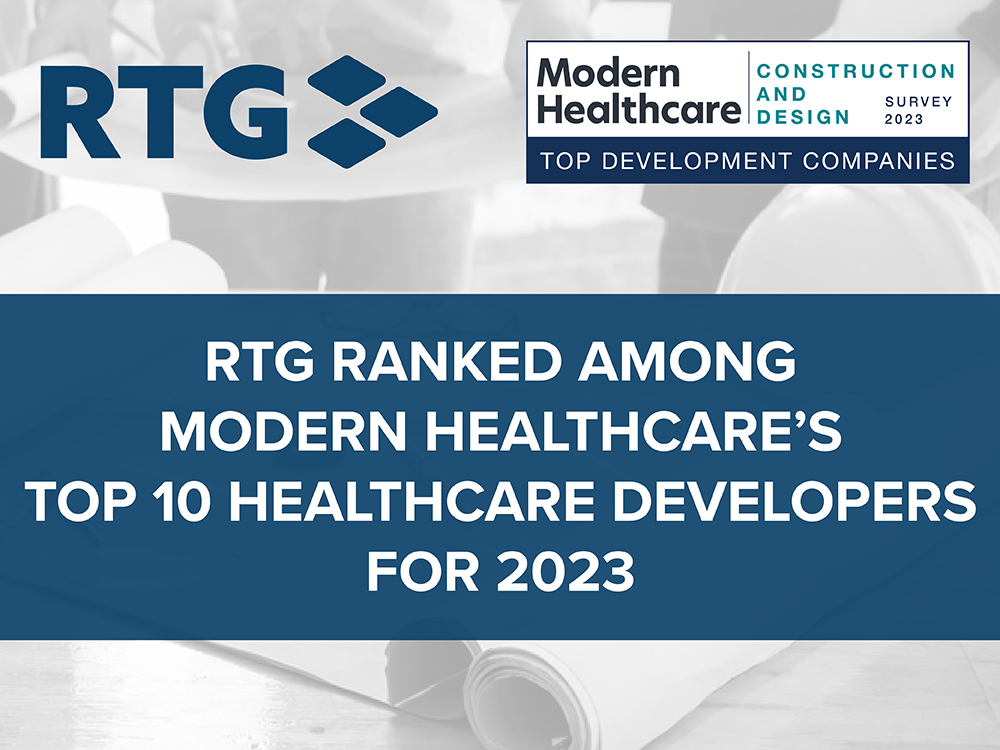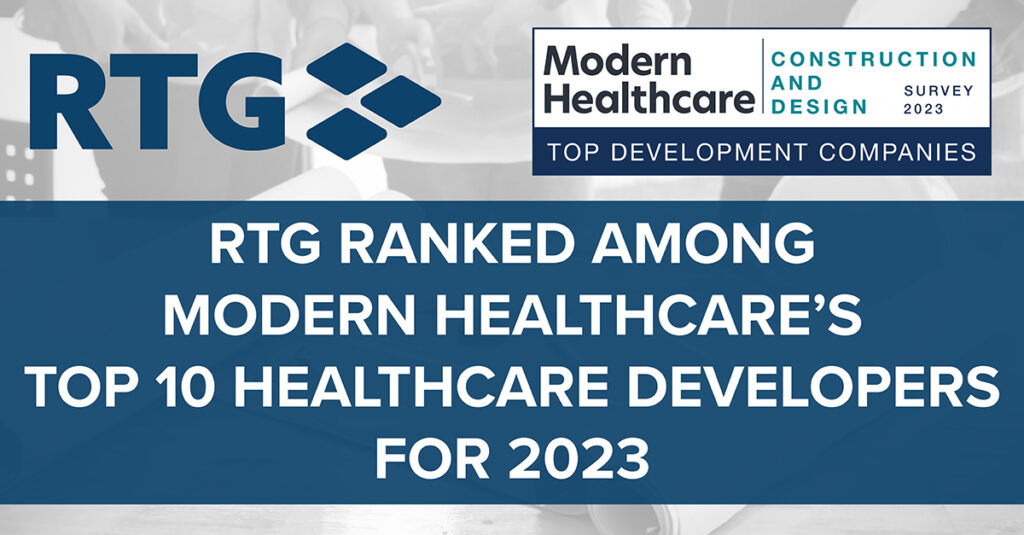 KNOXVILLE, TN –Realty Trust Group (RTG) has been ranked by Modern Healthcare as a 2023 Top 10 Development Company in its "Construction & Design Survey." This noteworthy recognition marks the fifth consecutive year RTG has been honored in this survey, which recognizes leading healthcare real estate companies nationwide.
"We're always honored to rank among Modern Healthcare's top development companies," said Executive Vice President Joe Krumdieck. "RTG is committed to delivering exceptional healthcare real estate development services to our clients. We understand the crucial role healthcare facilities play in enhancing patient outcomes, improving access to care, and fostering healing."
Participating companies must be based in the United States and have 100,000 square feet or more of projects in at least one phase of construction: completed, in progress, or in design. Companies must have a significant role in the projects they include, serving as the architect, construction manager, general contractor, design build firm, or developer of record.
"Healthcare real estate development represents significant expense and risk," said RTG Vice President of Development Services Dan Maxwell. "Our team understands that clients need healthcare real estate developers who can guide their projects to completion while saving costs and optimizing their ability to care for patients. This distinction is a significant honor for our team, reflecting our ability to provide clients with effective healthcare real estate services."
For further details about RTG's healthcare real estate development services and to receive guidance for your development project's successful completion, reach out to Executive Vice President Joe Krumdieck or RTG Vice President of Development Services Dan Maxwell.
RTG has established a consistent presence among Modern Healthcare's Top Development Companies, reflecting their industry-leading position. Additionally, they have garnered recognition as one of the nation's top developers in outpatient healthcare real estate through the Revista Outpatient Healthcare Real Estate Development Report. RTG's strength lies in its team, which comprises more than 130 healthcare real estate experts. These professionals possess diverse backgrounds encompassing healthcare strategy and operations, accounting, finance, brokerage, development, construction, property management, and legal expertise.
About Realty Trust Group
Realty Trust Group, LLC (RTG) is a nationally recognized real estate advisory and services firm serving the healthcare and life science industry since 1998. With objective, accountable, and trusted expertise, RTG provides innovative healthcare real estate solutions through a full platform of advisory, development, transactions, operations, and regulatory compliance services.
RTG acts as an extension of healthcare leadership teams, working to leverage real estate as a strategic asset to support broader organizational objectives. In a rapidly changing healthcare industry, RTG provides real estate strategies that gain market share, enhance patient experience, and increase speed to market. These solutions include strategic planning, portfolio optimization, capital strategies, facility feasibility and development, transaction support, portfolio management, regulatory compliance, and other tailored client solutions.
For more information about RTG, visit www.realtytrustgroup.com, Facebook, and LinkedIn, or call 865-521-0630.