Realty Trust Group ("RTG") joined forces again with Northside Hospital as the Northside Hospital Dominators for the 2021 Walk MS in Atlanta. Walk MS is a charity walk that takes place in over 550 locations and has raised more than $920 million since 1988 to drive groundbreaking research, provide life-changing programs and guarantee a supportive community for those who need it most. Once again, the Northside Hospital Dominators dominated the competition by raising $17,410.53 and earned the title of the  top corporate team for the state of Georgia. They are also recognized as the #10 corporate team in the nation. RTG employees from Georgia and Tennessee participated in the walk. While there was not an in person gathering for the 2021 event, employees planned their own routes to walk in celebration of the resiliency and strength of the MS community.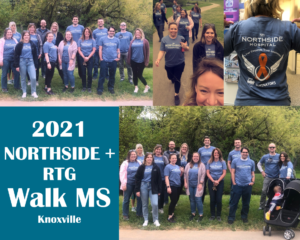 Renesha Ragin, Real Estate Specialist for Northside Hospital is the Corporate Team Captain for the walk team. She has worked closely with the RTG team for years and has been on a journey herself of living with MS for the past 10 years. "RTG was one of the first supporters our walk team four years ago and was a contributing factor to Northside stepping into the presenting sponsor role for the walk," says Renesha. "The MS Walk and the support of Northside Hospital and Realty Trust Group are a constant reminder that I am not alone in this journey and they are the reason I push harder every year to advocate and raise more funds for life saving research. My Northside colleagues are the true heroes fighting the fight against COVID yet still found the time to fundraise and advocate for patients like myself in need of medical treatment and other vital resources."
"Committed sponsors like RTG allowed the National Multiple Sclerosis Society to answer the call to the nearly one million people living with MS who are facing unique challenges in the wake of unexpected events, despite the international pandemic," says Rachael Fenich, Development Manager for Walk MS, National Multiple Sclerosis Society.
Northside Hospital Dominators are still accepting donations to help them reach their goal. If you would like to make a donation, you may do so here.
About Realty Trust Group
Realty Trust Group, LLC ("RTG") is a real estate advisory and services firm offering a full spectrum of real estate services including advisory, development, transactions, operations and compliance.
Since 1998, RTG has helped hospitals, physician groups, and property owners navigate the rapidly changing industry with growth strategies that gain market leadership as well as enhance patient and physician experiences for better delivery of care. Our philosophy is to provide innovative solutions to the complex and challenging issues found in today's healthcare real estate market. These solutions include strategic campus and facility planning, portfolio optimization, portfolio monetization, project development, leasing, acquisition and disposition services, portfolio management, regulatory compliance and many other ideas and services. For more information about RTG and our innovative healthcare real estate services, visit www.realtytrustgroup.com, Facebook, LinkedIn, or call 865-521-0630.