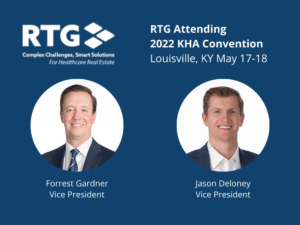 Realty Trust Group (RTG) is looking forward to attending the Kentucky Hospital Association's 93rd Annual Convention in Louisville, Kentucky, May 17-18. Our team is excited to connect with leaders in healthcare as we gather to learn about the latest industry trends. 
This year's conference will provide opportunities for continuing education for legal, pharmacy, nursing, and physician credits. President of KHA, Nancy Galvagni, is looking forward to this year's convention being a time of reflection and collaboration, focusing on and highlighting the challenges that have been overcome for hospitals, and health systems in Kentucky over the last few years. 
Highlights of the conference agenda include:
Health Executive Perspectives

Legislative Updates

Mindfulness for Lawyers

Healthcare Employment Post-Pandemic
RTG Vice Presidents, Forrest Gardner and Jason Deloney will be attending and available to connect with attendees on our full suite of healthcare real estate services. Visit them at table #40 or set up a time to meet with them outside the conference. 
Since 1998, RTG has worked closely with healthcare leadership teams to help our clients navigate the rapidly changing healthcare industry. Whether planning your next growth strategy or seeking to reduce operational costs, RTG understands healthcare real estate and its unique challenges. 
We hope you'll join us in Louisville, Kentucky May 17-18. We would appreciate the opportunity to discuss how we can help you gain market leadership and enhance your delivery of care through innovative real estate solutions. If you'd like to connect with us at the conference, you can schedule a time by visiting our web page. 
To learn more about the services RTG offers to help healthcare leaders save money, manage risks, and enhance delivery of care visit realtytrustgroup.com. If you are planning on attending the 2022 KHA Convention, please visit our conference website to learn more!