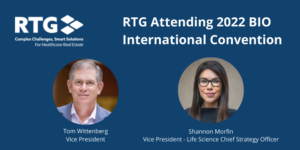 Realty Trust Group (RTG) is looking forward to connecting with industry leaders at the 2022 BIO International Convention in San Diego, CA, June 13-16. RTG Vice Presidents, Tom Wittenberg and Shannon Morfin will be attending the convention and available to discuss accelerating speed to market for your innovative technology with the right real estate strategies focused on lab space, manufacturing, and fill-finish assets.
This year's in-person conference offers several professional development courses for your career in biotech and scheduled programming that focuses on navigating the push towards growth that the industry is experiencing around the globe. With sessions covering topics like deal-making strategies for business development and transactions, patient-centric clinical trials, ESG reporting requirements, and monetizing AI and machine learning applications, you'll learn from the best in the industry. 
RTG's Wittenberg and Morfin will be available to connect with convention attendees to discuss how to match the velocity around research and development to commercialize and manufacture innovative medicine, vaccines, and therapeutics with the right real estate strategy. We partner with Life Science organizations to create tailored real estate solutions that follow your strategy and product's lifecycle. We provide you with the advisory and development services your real estate needs throughout the duration of your project, no matter where you are in the process. 
Since 1998, RTG has worked closely with healthcare leadership teams to help our clients navigate the rapidly changing healthcare industry, always striving to stay one step ahead. We help clients realize their vision by leveraging our real estate expertise to ensure market readiness.
We hope you'll join us in San Diego, June 13-16. We would love to discuss how we can help you accelerate speed to market for your product through innovative real estate solutions! If you'd like to connect with us at the conference, you can schedule a time via the BIO One-on-One Partnering or by visiting our web page. To learn about the services RTG offers to help biotech leaders save money, manage risks, and secure real estate to support capacity visit realtytrustgroup.com. If you are planning on attending the 2022 BIO International Convention, visit our conference website to learn more!