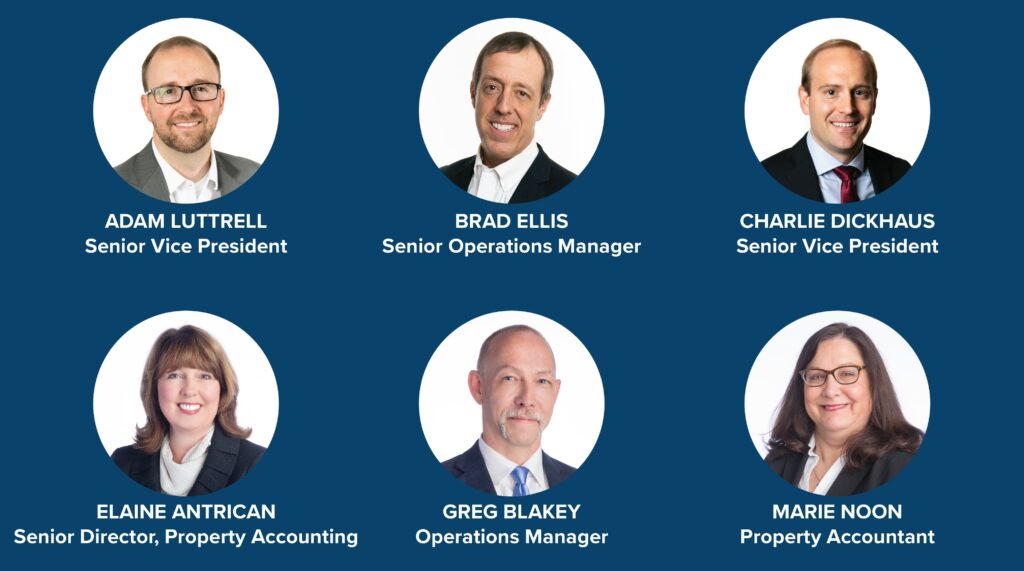 Realty Trust Group (RTG) is excited to announce the promotion of multiple team members and continue its tradition of recruiting, retaining, and promoting top-tier professionals. The team is proud to attract exceptional candidates who find numerous opportunities for advancement within the company.
Adam Luttrell has been promoted to Senior Vice President. He joined RTG in 2010 as an Analyst and is a trusted resource and leader within the company. He provides direct leadership for the advisory services line and embodies the "humble, hungry, and smart" moniker.
Brad Ellis has been promoted to Senior Operations Manager. He joined RTG in 2015 and was promoted to Operations Manager in 2019, providing leadership for the operations team and supporting capital project development initiatives in the Johnson City market. He identifies and implements savings opportunities and delivers complex projects on time and on budget.
Charlie Dickhaus has been promoted to Senior Vice President. He joined RTG in 2012 as a Senior Analyst in the Atlanta office, advancing through multiple positions to become Vice President in 2021. He brings trust, honesty, integrity, and motivation to his team and clients.
Elaine Antrican has been promoted to Senior Director of Property Accounting. She joined RTG in 2014 as a Property Accountant, evolving through several roles to become Director of Property Accounting in 2020. She demonstrates excellence in leadership and provides exemplary service to clients, distinguishing us from our competitors.
Greg Blakey has been promoted to Operations Manager. He joined RTG in 2019 as an Accounting Clerk and demonstrated a keen ability to identify improvement and expansion opportunities for clients, advancing to the role of Project Manager in 2021. He leverages tremendous knowledge of building infrastructure and regulatory compliance to provide exceptional customer service.
Marie Noon has been promoted to Property Accountant. She joined RTG in 2019 as an Accounting Clerk and has been instrumental in streamlining accounting and reporting processes for condo association clients. She brings a diligent, meticulous approach to every project and ensures our clients receive the best service.
"Our company invests in its people and helps them achieve the very best in their profession," said RTG President Greg Gheen. "We support them as they seek continuing education, licensing, and certification opportunities, and we are thrilled to witness their achievements."
Learn more about starting your career with RTG by visiting our careers page.