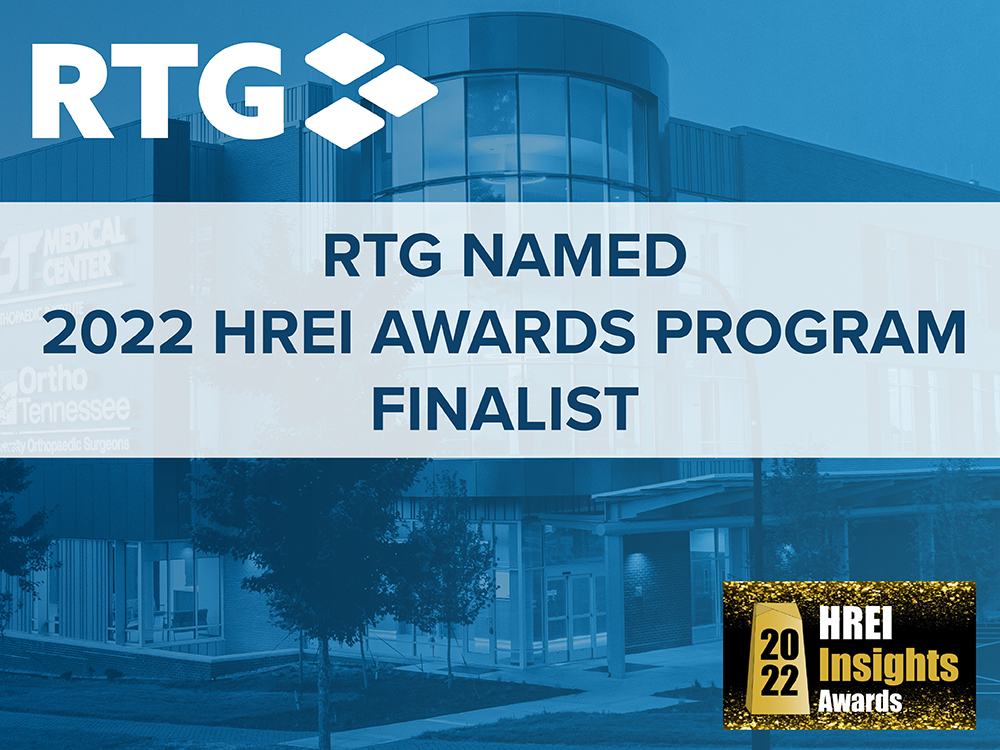 KNOXVILLE, TN –Realty Trust Group (RTG) is excited to announce that it has been selected as a finalist in the Healthcare Real Estate Insights (HREI) HREI Insights Awards program. RTG placed in the "Best New Medical Office Buildings and Other Outpatient Facilities (50,000 to 99,999 square feet)" category for a 91,000-square-foot Orthopaedic Institute in Knoxville, TN.
The HREI Insights Awards program is the first and only comprehensive national awards program dedicated to recognizing the best in healthcare real estate. RTG partnered with The University of Tennessee (UT) Medical Center, OrthoTennessee, and UT Research Park at Cherokee Farm on the Institute, which includes an ambulatory surgery center, operating rooms, advanced imaging, and clinical, research, and administrative areas.
"This is an exciting distinction for our team," said RTG President Chad Simpson. "The Orthopaedic Institute provides much-needed space for surgeons to deliver quality care to the community. We are thrilled to be recognized by HREI."
Finalists will be featured in the January and February edition of HREI magazine, with winners announced at the Revista Medical Real Estate Investment Forum conference on March 1, 2023, in Bonita Springs, Florida.
RTG routinely ranks among Modern Healthcare's Top Development Companies and has been ranked as one of the nation's top developers in outpatient healthcare real estate in the Revista / HREI Outpatient Healthcare Real Estate Development Report. RTG's team comprises more than 120 healthcare real estate experts with backgrounds spanning healthcare strategy and operations, accounting, finance, brokerage, development, construction, property management, and compliance.
About Realty Trust Group
Realty Trust Group, LLC (RTG) is a nationally recognized real estate advisory and services firm serving the healthcare and life science industry since 1998. With objective, accountable, and trusted expertise, RTG provides innovative healthcare real estate solutions through a full platform of advisory, development, transactions, operations, and regulatory compliance services.
RTG acts as an extension of healthcare leadership teams, working to leverage real estate as a strategic asset to support broader organizational objectives. In a rapidly changing healthcare industry, RTG provides real estate strategies that gain market share, enhance patient experience, and increase speed to market. These solutions include strategic planning, portfolio optimization, capital strategies, facility feasibility and development, transaction support, portfolio management, regulatory compliance, and other tailored client solutions.
For more information about RTG, visit www.realtytrustgroup.com, Facebook, and LinkedIn, or call 865-521-0630.