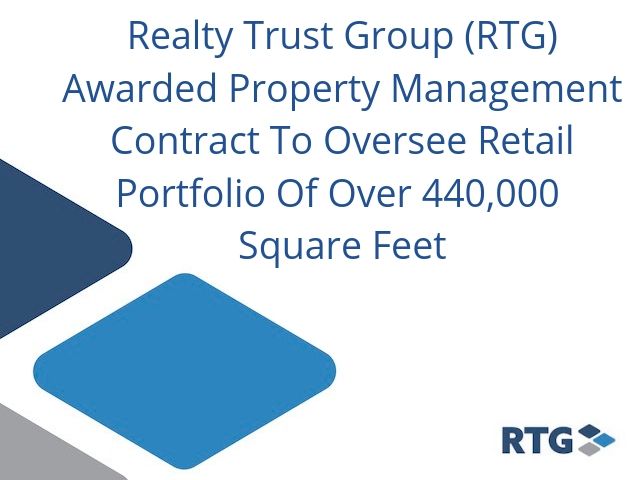 RTG News
Realty Trust Group Awarded Property Management Contract to Oversee Retail Portfolio of Over 440,000 Square Feet
Realty Trust Group (RTG) has been selected from a pool of qualified applicants to provide full-spectrum property management services to Strategic Acquisitions Group (SAG) for a portion of its retail portfolio comprising more than 440,000 square feet of real estate across the southeast.
Greg Gheen, co-founding member and President of RTG, stated: "The Southeast region is experiencing tremendous growth in residential and commercial real estate opportunities. We pride ourselves on staying at the forefront of helping our clients manage cost containment pressures while also developing leading edge capital investments in targeting the right locations and properties. We are looking forward to lending our extensive property management knowledge, experience, and resources to SAG's portfolio."
SAG is a Knoxville-based, private investment group that owns and oversees multiple assets.
About Realty Trust Group
Realty Trust Group, LLC ("RTG") is a real estate advisory and services firm offering a full-spectrum of real estate services including advisory, development, transactions, operations, and compliance. Since 1998, RTG has helped hospitals, physician groups, and property owners navigate the rapidly changing industry with growth strategies that gain market leadership as well as enhance patient and physician experiences for better delivery of care.
With over 75 employees, RTG serves clients in over 30 states, manages over 11 million square feet of healthcare assets, has completed over $2 billion in healthcare transaction volume, and was recently ranked among the Top Healthcare Development Companies by Modern Healthcare. RTG has offices in Nashville, Knoxville and Johnson City, TN, Atlanta, GA and Greensboro, NC. For more information about RTG and our innovative healthcare real estate services, visit www.realtytrustgroup.com, Facebook, LinkedIn, Twitter, or call 865.521.0630