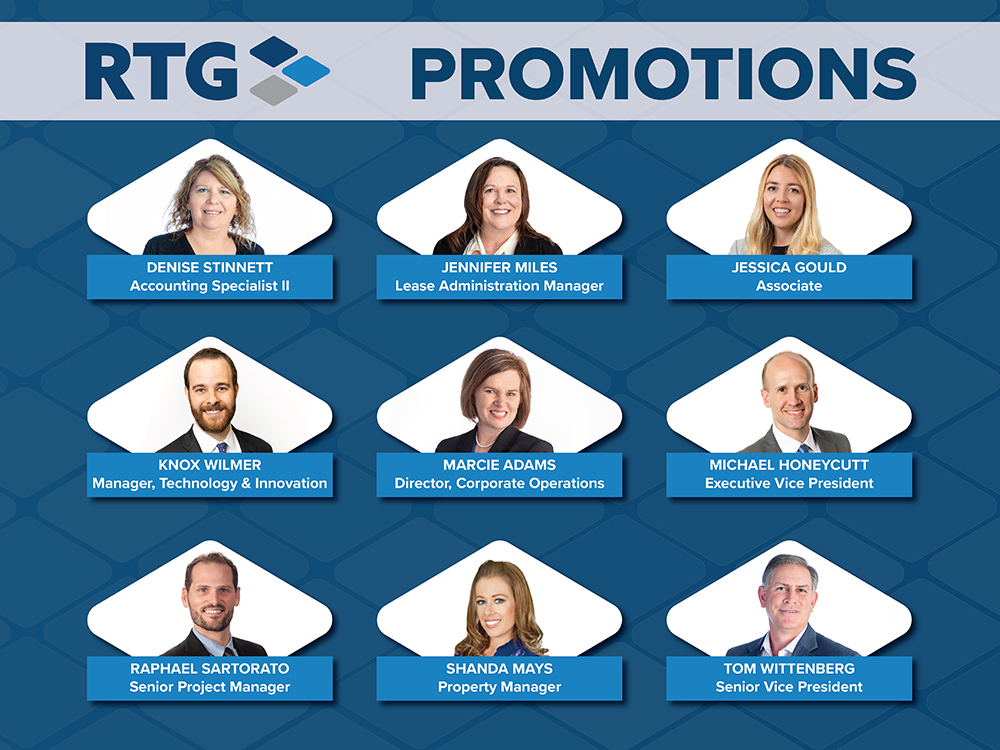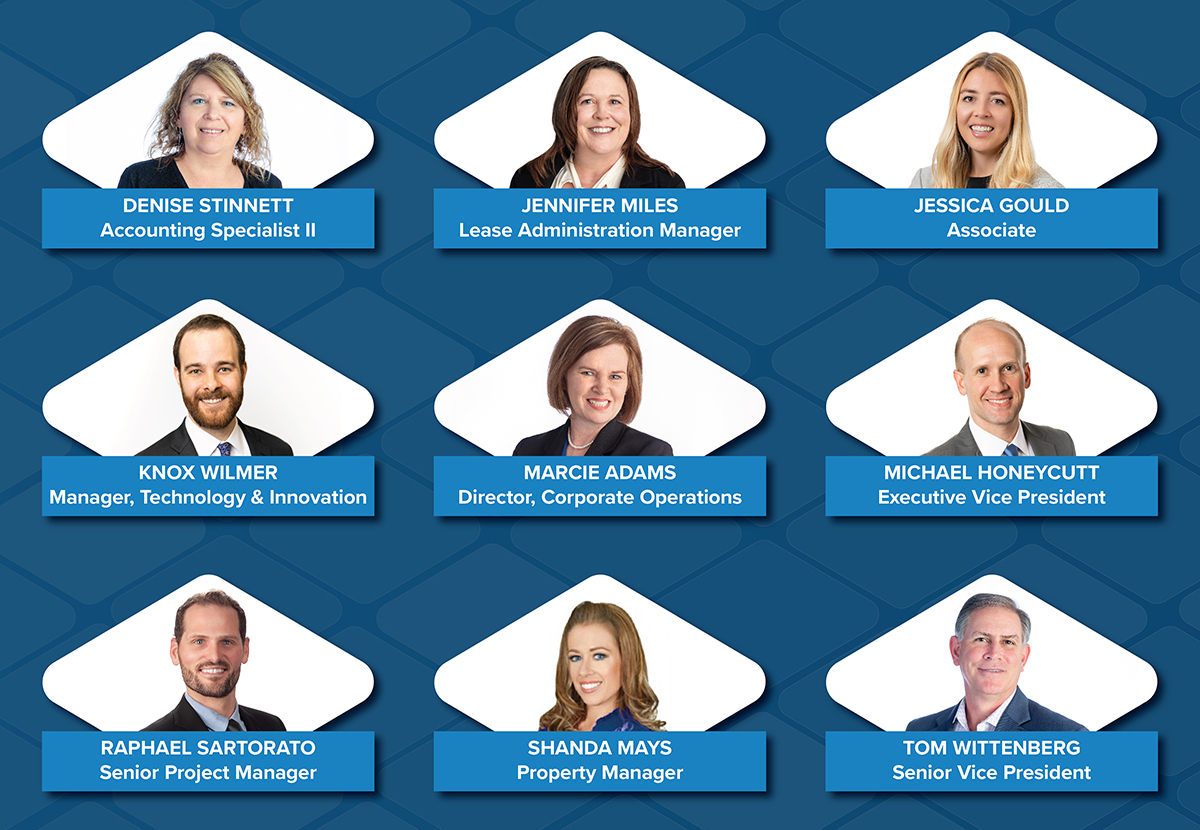 Realty Trust Group (RTG) is pleased to announce end-of-year promotions and recognize several individuals for their invaluable contributions to the company. RTG prioritizes recruiting, retaining, and promoting the best professionals across multiple industries.
Denise Stinnett has been promoted to Accounting Specialist II. Denise joined RTG in 2020 as an accounting specialist in the Knoxville office. In her new role, Denise will continue to support current staff, mentor new team members, and oversee the growing Northside portfolio.
Jennifer Miles has been promoted to Lease Administration Manager. Jennifer joined RTG as a property accountant in 2020 in the Knoxville office. In her new role, Jennifer will oversee the lease administration team members, provide department programming, and handle lease administration implementation of new portfolios.
Jessica Gould has been promoted to Associate. Jessica joined RTG in February of 2022 as a senior analyst (advisory) in the Tampa office. In her new role, Jessica will continue to lead advisory engagements in Florida and throughout the company as necessary. She will take on more responsibility in pursuing new work and maintaining existing client portfolios and engagement needs.
Knox Wilmer has been promoted to Manager, Technology & Innovation. Knox joined RTG as a senior analyst in 2016. In his new role, he will develop innovative solutions for RTG and RTG clients. Knox will work with service line and market leaders to ensure that efficiency measures, technological advancement, and best practices are utilized across the company. Additionally, Knox will continue to advance RTG PinPoint and other technology to clients and prospects.
Marcie Adams has been promoted to Director, Corporate Operations. Marcie joined RTG as a controller in 2020. In her new role, Marcie will lead efforts to implement a new accounting and reporting system as well as serve in an expanded support role to include corporate accounting, information technology, human resources, insurance, and PYA back-office liaison.
Michael Honeycutt has been promoted to Executive Vice President. Michael joined RTG in 2005 and has been an essential contributor to the company's growth. In his new role, Michael will provide executive leadership across the advisory, compliance, and operations service lines, as well as maintain responsibility for the corporate operations team.
Raphael Sartorato has been promoted to Senior Project Manager. Raphael joined RTG in 2021 as a project manager. In his new role, Raphael will continue leading several ground-up capital initiatives for Northside Hospital while providing mentorship to our project managers and assistant project managers. Raphael will also play a key role in several service line performance improvement initiatives in 2023.
Shanda Mays has been promoted to Property Manager. Shanda joined RTG in 2019 as a property management assistant. In her new role, Shanda will play a key role in leading property management services for Marietta Eye / IDOC and Hamilton. In total, RTG's NS-C team, comprised of Shanda Mays and Melody Darden, will oversee a portfolio of 700k square feet.
Tom Wittenberg has been promoted to Senior Vice President. Tom joined RTG in 2020 as vice president to kickstart our expansion into Florida. In his new role, Tom will lead RTG's national life science platform and continue supporting healthcare business development in local markets. Tom's background, leadership, and experience will be utilized to seamlessly integrate RTG service lines and personnel and secure new relationships as we enter the life science market.
We congratulate these incredible colleagues!