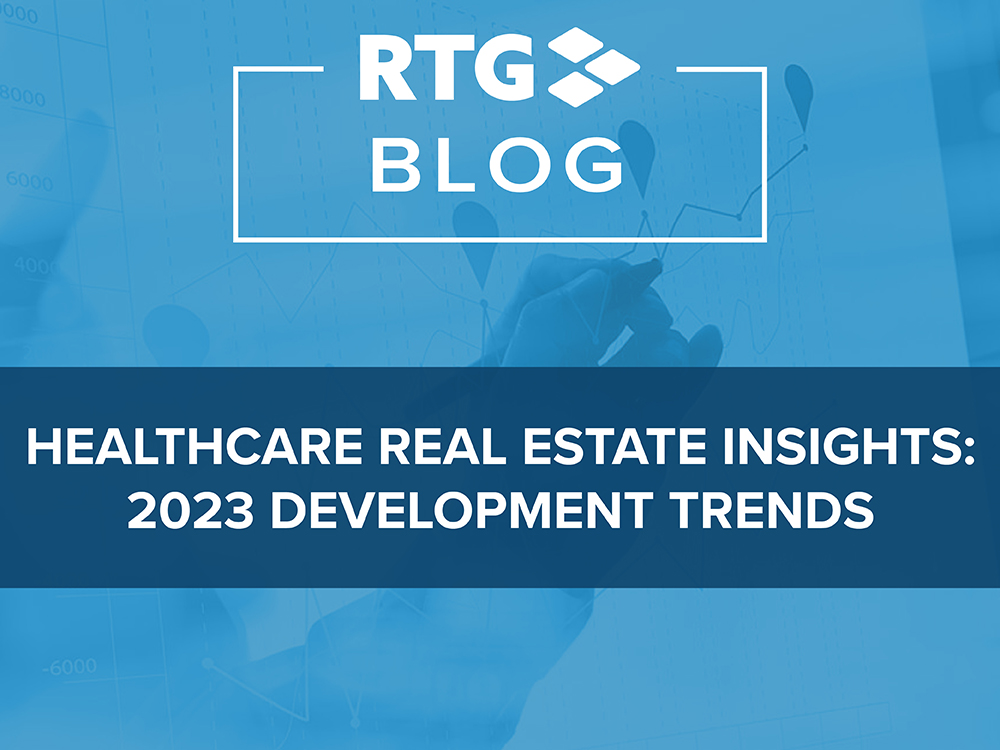 Realty Trust Group
Several key trends will shape the healthcare real estate development landscape in 2023. Developers may face significant challenges due to inflationary fluctuations, while the aging population will increasingly require senior living facilities that cater to their unique needs and preferences. Healthcare providers are actively pursuing strategies to enhance care delivery efficiencies while simultaneously adapting real estate to accommodate future public health crises and evolving patient needs. They must also adapt to patients' demands for convenient, safe spaces and care delivery methods that align with their lifestyles. Finally, healthcare providers are making facility modifications to ensure emergency preparedness and are exploring alternative settings to deliver healthcare services.
This Realty Trust Group (RTG) blog post highlights key trends in healthcare real estate development in 2023 and provides valuable insights into the evolving infrastructure of healthcare. The development process inherently includes various risks, necessitating healthcare providers to establish a robust plan from the outset to ensure the realization of a successful project. RTG has the experience and resources to guide healthcare providers through ground-up construction, facility expansion, interior renovation, or retrofit projects. Real estate development is challenging, and our team has the experience and knowledge to navigate the process from start to finish.
Would you like to explore the risk considerations with the design-build process for fast-track construction projects? Download our white paper
Inflationary Impacts on Healthcare Real Estate Development
In 2022, U.S. inflation rates soared to worrisome heights: 6.5%—the highest since the 1980s. While the rate of inflation has since dropped and, for 2023, is projected to fall to 2.7%, inflation remains a critical factor for the healthcare real estate development industry. Inflation affects healthcare real estate by contributing to higher construction costs. As prices rise for raw materials, labor, and other essential inputs, the cost of constructing new healthcare facilities escalates. These cost increases have the potential to slow or even halt the progress of development projects.
Rising inflation can also result in elevated borrowing costs, posing challenges for healthcare developers in securing financing for new projects. Consequently, these factors contribute to delays in the construction of new healthcare facilities, ultimately restricting access to care and amplifying patient costs. The slowdowns in construction impede the timely expansion of healthcare services, affecting both patients' ability to receive necessary care and the affordability of healthcare services. Inflation's influence on the value of existing healthcare properties can impede investors seeking to sell or refinance these assets. The fluctuations in inflation create considerable challenges for healthcare real estate developers, necessitating careful planning and management to navigate the complexities presented by these economic conditions.
Facility Retrofitting Remains a Top Priority for Healthcare Developers
With the outbreak of the COVID-19 pandemic in March 2020, health systems and providers found themselves ill-prepared for the overwhelming surge of patients inundating their facilities. To proactively address potential future outbreaks, many providers are retrofitting medical office buildings and other facilities while implementing systems to stay ahead in the face of any future outbreak.
These modifications include various measures, such as adding negative pressure rooms and isolation rooms to mitigate pathogen transmission, integrating telemedicine capabilities, enhancing disinfection protocols, augmenting personal protective equipment availability, and implementing screening areas and symptom assessments to promptly identify and isolate infected individuals.
Senior Housing and Rehabilitation Facilities Will Shape Healthcare Development
As the baby boomer generation ages, senior housing and rehabilitation facilities will continue to play a significant role in 2023. A National Investment Center for Seniors Housing & Care MAP reported that senior housing occupancy was up to 82.2% in the third quarter of 2022, a 4.3% increase from the lows registered during the COVID-19 pandemic. Undoubtedly, occupancy rates are expected to increase as the medical needs and preferences of the aging population play a crucial role in shaping the future of senior living and rehabilitation facilities.
As the baby boomer generation progressively transitions into senior housing facilities, their expectations are shaped by the accustomed standard of living they've experienced throughout their twilight years. Consequently, it is imperative that the spaces designed for their care reflect and meet these expectations. The emphasis lies on providing senior housing facilities that cater to their medical needs and offer a comfortable and fulfilling lifestyle in line with their preferences and aspirations. Residents will also require spaces designed to prevent the spread of infectious diseases and allow ample room for social distancing. Healthcare developers face numerous considerations, among which lies the crucial task of thoroughly understanding the needs and preferences of their target demographic.
Medtail is a Rising Solution for Providers and Healthcare Developers
Medical retail, or "Medtail," is becoming increasingly common. As consumers isolated themselves in their homes in 2020, online shopping, grocery delivery, and telemedicine emerged as the prevailing norms. While much of the world has returned to normal, consumers still expect convenience. Simply put, individuals prefer not to drive to an isolated location, struggle to find parking, and navigate through vast, complex medical facilities when seeking healthcare. As a result, many healthcare providers are moving into shopping plazas, malls, and storefronts to increase accessibility.
Medtail represents an ideal situation for consumers, landlords, and healthcare tenants. Consumers can conveniently access healthcare near their homes, restaurants, and stores. At the same time, landlords benefit from long-term healthcare tenants who provide income and a steady customer traffic flow through the surrounding area. Healthcare providers can benefit from lower construction costs and enjoy better exposure and patient volume. Medtail also benefits healthcare providers and patients by addressing overcrowded, cramped conditions in hospitals, which can help mitigate the spread of disease.
Prefab and Modular Facilities Are Attractive Options for Medical Office Developers
Healthcare developers are progressively embracing modular construction methods to expedite project timelines and enhance efficiency.
Prefab and modular facilities are highly customizable and can be designed to meet the unique needs of healthcare providers. They are easily reconfigured and expanded, making them ideal for healthcare facilities that need to adapt to changing patient needs. Modular facilities can be quickly disassembled, moved to other locations, and rebuilt—minimizing wasted materials and hassle. Prefab and modular facilities are more sustainable than traditional buildings, as they generate less waste and require fewer materials. Given the ease with which urgent care centers, clinics, administrative offices, laboratories, and other facilities can be constructed, there is no reason to expect the modular construction trend to slow down in the foreseeable future.
The Path Ahead for Healthcare Real Estate Development
In the ever-evolving healthcare landscape, certainty is elusive. However, the preceding trends will undoubtedly shape the realm of real estate development in 2023 and present unique challenges for providers and healthcare developers. Inflation will remain a crucial consideration for developers, while retrofitting existing hospitals will assume significance as providers strive to ensure emergency preparedness. With the growing aging population, senior housing has become an increasingly significant area of focus in the healthcare sector. Simultaneously, the rise of a consumer-oriented healthcare model is propelling the prominence of "Medtail" facilities that merge medical services with retail settings. Furthermore, modular construction is gaining traction due to its cost-effectiveness and time-saving advantages, offering a viable solution for healthcare developers seeking efficient project delivery. Meeting the evolving needs of the healthcare industry necessitates that developers be adaptable and forward thinking.
For guidance in selecting the best healthcare real estate developer, read "5 Key Considerations When Choosing a Healthcare Real Estate Developer."
How Can RTG Guide Your Medical Real Estate Development to Successful Completion?
RTG is prepared to handle your next medical real estate project, regardless of whether it entails constructing a new facility, expanding an existing facility, or renovating the interior. Given the costs and risks involved in healthcare real estate development, clients require a robust plan and expert guidance from the outset to mitigate the potential for costly mistakes.
Our team adopts an owner's representative approach, delivering efficient and effective development services that meticulously monitor critical metrics of time, quality, and cost. We prioritize clear and open communication, ensuring our clients are well-informed throughout the development project's life cycle. Our adaptability enables us to address challenges promptly, ensuring the success of the project. At RTG, we take pride in managing every aspect of a project from its initial conception to occupancy. Our focus is to create a positive impact by helping healthcare leaders save money, manage risks, and improve the overall well-being of the patients and the community at large.
For further information about our healthcare real estate development services and how we can assist you in achieving a successful project outcome, please contact RTG's Executive Vice President, Joe Krumdieck, and Vice President of Development Services, Dan Maxwell.